The evening had a chill in the air and a couple stepped out in cocktail attire to enjoy an evening of art and classical music. What better way to start the evening than with an elegant glass of wine.
I had never heard of the winery before when I saw it on the menu and my husband was feeling brave enough to order a bottle. As I swirled the taste of wine in my glass I could see the beautiful burgundy hue with hint of deep purple. When it comes to Cabernet Sauvignon in Napa or Sonoma its hard sometimes to find one that actually stands out from the crowd and is from a small producer who was captivated by the art of wine making process. Blue Frog Cabernet Sauvignon captures the artistic and scientific balance in a glass. Ever since I enjoyed the bottle at the restaurant I have been looking for it. I finally found them on Facebook and asked where I could purchase a bottle. A couple of years have passed and they finally have a tasting room which I am truly excited about and the next time I am in the area I will have to stop in. These guys have captivated their craft and shared it with the rest of us in a great bottle of cab.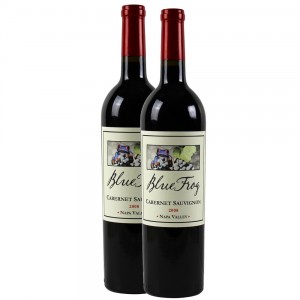 Why is Cabernet Sauvignon associated so deeply with Napa? The founding fathers of the wine country in Napa such as Mondavi family, or the Inglenook winery among others of course wanted to be able to create a wine that would stand up against the beautiful and luscious French bordeaux. The main grape varietal in most Bordeaux's is Cabernet Sauvignon but usually blended with merlot, petit verdot, and cabernet franc. In France the bordeaux style rarely contains more than 75% Cabernet Sauvignon and even that is a bit too high. In Napa, currently, the wine has to contain at least 75% cabernet Sauvignon to be considered and labeled a Cab. Most are at least 80% and there are some even 100% cab. This is not a bad thing but creates a very robust, full bodied, and sometimes very tannic wine. Usually winemakers will blend the wine with a little merlot for fruit, or petit verdot for mouth feel. They could even add a bit of Viognier to the wine for floral notes on the nose and roundness in the glass providing a bit more balance. None the less, California has come a long way and yet again you can find the traditional cabs from Napa or even contemporary version which contain more fruit and might not need to be cellared for as long, if at all.
Blue Frog Winery Cabernet Sauvignon 2008
Wine Notes:
Nose: Funky Barnyard, Earth, Tobacco, Raspberry Jam, Hay
Taste: Pepper, Blackberry, Tobacco, Coffee, Mulberry
The cab has a very smooth finish, not too tannic, full bodied, and balanced. Very elegant for a young cab but definitely worth an experience. I truly enjoyed it.
Article Tags:
Cabernet Sauvignon
·
California
·
Napa
·
Red Wine
Article Categories:
Red Wine