The first time I had this type of wine I knew it was truly special. I joined a couple of friends at a small wine shop, Vineyard Gate Wine Cellers, to taste a special line up of wine I had never heard of. I was super intrigued and my thirst for more knowledge and experience added to my excitement. The wine shop was in southern san francisco tucked away on a side street and very simple but had a very nice selection of wines you may not find in most places. The shop owner was extremely knowledgable but didn't push for us to purchase but rather to enjoy the experience and learn about the wine.
Chateauneuf Du Pape is a very lustrous wine with big bold flavors and light touch. The most recent experience I had was at a restaurant. I was very surprised to see this option on the menu. Most places may not offer this as a glass option because of the price of the bottle however I was ecstatic to see this as an option.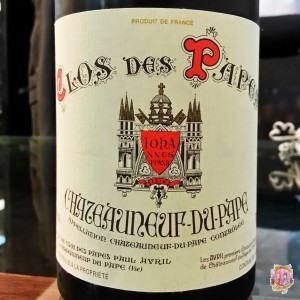 Chateauneuf Du Pape can be a white or red wine. I have only experienced the red variety. The appellation does not allow Rosé wines to be created. The terrior is very unique. The small stones retain the heat during the day from the sun and release it during the evening hours allowing for a faster growth period. These are stones that have been worn down from the Rhone river which also means the soil is rich with nutrients. The stones can also retain water like a sponge in a sense. This is a great attribute to assist the vines in the summer when rain is sparse. Chateauneuf Du Pape is part of the southeast rhone region and actually produces more wine than any other part of the northern rhone region all together! This style is a blend and can be a bend of 13 different grape varieties. The Clos Des Papes Chateauneuf Du Pape is a blend of Grenache and Syrah grape varietals.
Wine Notes
Nose: Earthy Funk, Red Cherries, Gooseberries, Cedar Wood
Taste: Red Cherries, Cola, Blueberries, Black Berries, Cassis, Espresso on the back side.
Long tannins but smooth. I felt it was a medium bodied not as bold as the flavors might suggest. Very balanced and I love the funky earth on the nose. Not too acidic either. Truly a joy to experience and they do age well. After I allowed the wine to sit over time it really opened up. Something to impress the in-laws with or your date. You can find reasonably priced ones so don't think this is out of your range.
Article Tags:
France
·
Grenache
·
Red Wine
·
Syrah
Article Categories:
Blends
·
Red Wine