An afternoon in October I was wine tasting with a few friends. I had heard from colleagues about a winery called Torii Mor Winery and suggested to my friends lets check it out. The afternoon had turned from being misty to foggy and cold. As we drove up the country roads winding through the vineyards of Dundee hills trying to avoid the huge pot holes and various obstacles. The clouds slowly started to blanket the vineyards and engulf us. I missed the turn off but we finally made it to the "drive way" or road that would lead us to the tasting room for Torii Mor. The fog was thin but it created this calming scene as we approached the vineyard and it was as if this was the only building for miles. The owner of Torii Mor has used warm and inviting influences for the tasting room and it seriously appeared to be a cottage in the middle of nowhere in the middle of an Oregon vineyard. We climbed the stairs to the tasting room and it was so warm and inviting with the lush wood floors and cushioned window benches. As you looked out of the big window the fog had become thicker and you could see the vines peaking out at you. I seriously felt as though I was in the clouds. We tasted through a few of the wines. The Torii Mor Winery became one of my favorites.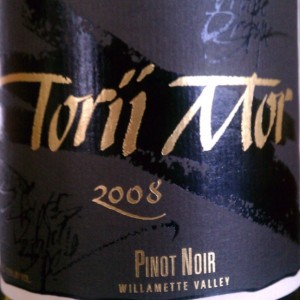 The winemaker is originally from France and creates the pinot noir's similar to a burgundy style. Choosing to represent the terrior with every bottle of pinot noir. In Burgundy France only natural yeasts are used to inoculate the wine which can give the wine more complexity and representation for the terrior. Where as the New world style might use a yeast that could boost a specific flavor or mouth feel profile. Another difference in technique Burgundy uses less new oak when aging the wine. There are different techniques for making any style of wine and not to say that one is better than the other. This all depends on what each person likes to experience.
Wine Notes:
Nose: Acidic, Funky, Moss, floral, and Raspberry jam
Taste: Black Cherry, a hint of Tobacco, Oak, Earth, Carmel and Vanilla
Smooth finish. This is truly a beautiful wine. The flavors compliment each other and provide a very elegant, delicate Pinot Noir.
Article Tags:
Oregon
·
Pinot Noir
·
Red Wine
Article Categories:
Red Wine