Wine is very subjective. I will not pretend to be all knowing or that my description is exactly what you should experience as well. I'd like this to be a guide to expand your horizons on wine and have fun with it! I hope you will use this to help find a wine to enjoy; perhaps, on a night of chocolate and movies or for a dinner with the in-laws from Napa California. Be prepared to be seduced!
Much time has past since my first true, I bought at the liquor store, bottle of wine; however, I do remember still to this day the first wine that peaked my interest into this world and it has gone down hill from there.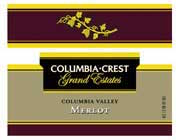 My parents had taken a trip to the State of Washington, June 2004, and had returned with a description of a fabulous wine! A Merlot by Columbia Crest. They described it as being fruit forward, full bodied, jammy, with hints of cooking spices, funk and smooth texture. I was hooked. I had to find it. They also told me this was very reasonably priced. At the time I was a poor college student and inexpensive was required. I was lucky to find Columbia Crest because at the time this winery had not expanded out east as well as they have now. It was still small and unknown by most people in the mid-west. However, I am lucky to say being in the Kansas City/Lawrence area of Kansas, at the time, I did have access to some wine shops and the associates were very knowledgable about wine which continued to open new ideas and doors to me. I'll save that for a later date.
I opened the bottle of columbia crest Merlot in September 2004 the vintage was 2001 Merlot and it was exactly as my parents described it.
Wine Notes:
Taste: Very berry fruit forward, hints of chocolate and espresso, cooking spices and earth funk but very smooth which is hard to find sometimes with a Merlot.
This had a great color and at the time I felt this wine could go with anything! I periodically buy a bottle of this and the taste does vary with each vintage but it is an easy drinking merlot.
Merlot's origin is France usually being used in blends but now it is more versatile and is grown in many different places around the world. The grape usually brings out big dark fruit and silky tannins. For a big red I always recommend at least 3-5 years old before opening.
Columbia Crest you could open a bottle maybe only 2 years in bottle. I would recommend this to anyone who doesn't drink wine that often and needs a red or is going to a wine party or dinner and is not sure on the food offered at the party. If you do choose to pair something with this I would recommend blue cheese (not too stinky), roasted almonds with thyme, or could be a red meat sauce or tomato based sauce to a burger and fries! Very versatile wine.
Article Tags:
Merlot
·
Red Wine
·
Washington
Article Categories:
Red Wine