My Husband and I have a vacation rental in Southern California. In the summer most people do not visit this area because it is sooooooo hot! My husband loves the sun and will always be a California boy. Therefore, there are times I must endure the hot summer days. I am used to it though being from Kansas but the heat from both places are not comparable. We had been out and about all day in the sun with the heat and something refreshing sounded oh so good. I had tried to take the year of 2014 as a year I would broaden my horizons on wine and focus on trying more Sauvignon Blancs. I have ran into a few I was not a fan of which turned me off from this type of wine. However, I do have quite a few friends who are wine lovers and recommended a few good ones to try that wouldn't have that grassy, farm field, taste. I landed on Chesebro Winery when I was attending a friends wedding in Carmel California. I truly enjoyed the tasting room experience as well as the wine. I ended up purchasing a bottle of the Sauvignon Blanc 2010.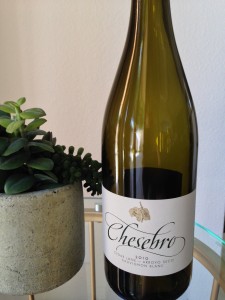 Chesebro uses neutral french oak to ferment the wine and age the wine before bottling. This allows the wine a little more aeration from the wood and can also bring a bit of creaminess or softer tannins to a white wine. Using neutral oak will tame the "oakiness" one might expect from fermenting in oak barrels. The grape, Sauvignon Blanc, originated in France and can also be seen in Bordeaux blends.
Wine Notes
Nose: Elderflower, lemon, and honeysuckle blossoms
Taste: Lemon peel, green apple, zest, passion fruit. Bright, clean, and crips.
I truly enjoyed this Sauvignon Blanc. I would definitely try to find it again and recommend it on a hot summers evening for a cool refreshing "take me to the tropics" type of escape.
Image credit: www.hypeorlando.com
Article Tags:
California
·
Sauvignon Blanc
·
White wine
Article Categories:
White Wine