I am a fan of all different wines with all different price points. I am not partial to wine above or below a specific price. I keep my mind open. That being said, I do revel when I find a wine I do enjoy that is under $15 or even under $10. Don't get me wrong….inexpensive wine does not always mean poor quality. I have my favorites that are pretty consistent which is a nice quality to have when you need to bring something to a party and your not sure what everyone will like or even if its just chillin in your backyard, sun descending in the sky, warm breeze wafting across your patio, dog is lying at your feet and you are feelin good….you want something you can rely on, a wine that won't be too complicated, perhaps something you won't need to think to hard on because you have had it before, the flavors may vary a little from vintage to vintage but the same feel and idea is delivered the same…..consistency, easy, clean, refreshing. The two that come to mind…yes two…so you all are getting a bonus; are Clean slate Riesling from Germany, and Voga which is a pinot Grigio from Italy.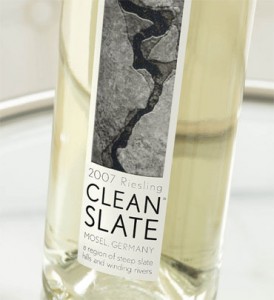 Clean slate: is a German Riesling from Mosel. Riesling is a white grape from Germany. Very aromatic and lively. Reislings can be dry, semi-dry, or sweet. I have had the pleasure of drinking the 2007, 2009, 2011, and 2012 vintages of Clean Slate Reisling. They do vary but only slightly and they remain just as refreshing and satisfying each time.
Wine Notes:
Nose: hints of floral such as apple blossoms and rose hip with a hint of creamy butter
Taste: citrus – lemon/lime, grapefruit, mineral, and peach. A hint of spice was pronounced in the 2009 vintage and a touch of honeysuckle was detected in the 2011 vintage. Clean slate is clean and mostly dry…I would not consider this a sweet wine.

Voga NV (nonvintage): is from Italy a pinot grigio. Pinot Grigio (gris) can vary just like a chardonnay in style and experience. I stumbled upon this wine when I was still in my college years and merely picked it out because of the bottle shape. The bottle looks like Voss water. I thought it was the coolest thing ever! Again, I was in college….appearances mattered. Voga is produced from the Trentino-Veneto regions of Italy.
Wine Notes:
Nose: pear tree blossoms, lemon rind
Taste: pear, orange blossoms, hint of nutmeg, and basil. Very smooth finish not bitter or sharp.
Both are great wines and perfect for hot weather or just an evening watching the sunset out on your patio with your dog taking a moment for yourself. Enjoy!
Article Tags:
Germany
·
Italy
·
Pinot Grigio
·
Riesling
·
White wine
Article Categories:
White Wine