Beaujolais….sounds so romantic and luscious just rolls of the tongue, right? This was another wine I experienced when I was young and less experienced but has been a type I truly enjoyed and can be my go to wine even to this day. My father gave me my first Beaujolais and told me, chill it in the fridge for at least 30 minutes and drink with a side of chocolate. That is exactly what I did. I was a bit perplexed how a lighter style of wine could be so good next to a dark intense chocolate.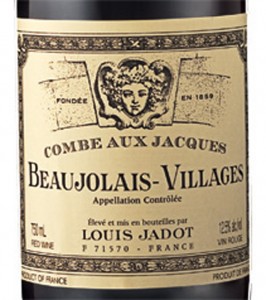 Beaujolais is a french style of wine typically made with Gamay grapes. The grapes have a thin skin and light in color making this a very low tannic wine. Don't confuse this with a weak wine because these can still have complexity. My go to and first label of Beaujolais is: Louis Jadot Beaujolais-Villages 2005. I have had many different vintages since the 2005 and have not been disappointed.
Wine Notes:
Nose: strawberry blossoms, a hint of lemon zest, honeysuckle and bright.
Taste: strawberries, cloves and baking spices, easy finish but does not cut you off, earthy but easy and bright.
Seriously, this a great drinking wine if you need something to take to a party and have no idea the cuisine, or you just would like something refreshing, easy, and can pair it with almost anything from an appetizer to a dessert. I even suggested this as a Thanksgiving wine to a friend. I am not sure how well this would age I haven't heard of too many people aging these for long periods of time. Besides, I usually purchase a bottle and drink it soon after. This is also a nice price point under $15.00 or at least to this date. Next time you are at the store looking for a wine, pick this up, pour yourself a glass, and step out onto your patio as the sun is setting for a relaxing glass of wine. Enjoy!!
Article Tags:
Chocolate
·
France
·
Gamay
·
Red Wine
Article Categories:
Red Wine