My husband and I had recently taken a trip to visit my family in Kansas. My Mom loves to promote healthy eating and that's usually how we eat as well. However, after traveling my husband was longing for a big juicy steak. Every once in a while is ok….right? This inspired me to open a bottle of Barolo.
Barolo is one of my favorites but I do feel it can be hit or miss. The first time I tasted a velvety big bold Barolo was at the Allison Inn and Spa in Newberg, OR. The heart of the willamette valley. The Allison has a fabulous wine list by the way. After enjoying my first bottle of Barolo I fell in love! The problem I ran into with this type of wine is the price point. I respect certain wines with higher price points but I prefer ones that I don't have to break the bank for. I finally found a Barolo on sale on a wine broker site. Lucky me! I bought Giovanni Corino Barolo Vigna Giachini Estate bottled 2007 in 2012.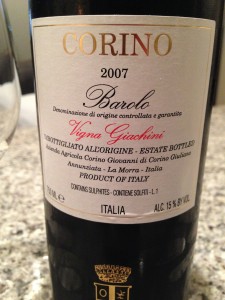 Barolo is 100% Nebbiolo grape varietal and can be aged for years in oak barrels before being bottled. Hence the reason one might cellar a bottle for at least 5 years and the price point being a little high. I tried to hold out as long as possible because most Barolo's can age very well over 10 years! But I wanted to open it, so be it. Besides it had been 7 years or so since the wine was harvested. There are many big dishes and classic Italian dishes you can pair with this type of wine but frankly, its all about what you like and I wanted to try it with a steak, grilled to perfection. I opened the bottle about 45 minutes before dinner and I ended up pouring a glass and letting that sit for an additional 15 minutes. I knew it was going to be big, tannic and I was a little worried this vintage or this label may not be one to age a long time and should have been opened earlier.
Wine notes first day:
Nose: funky with a hint of acidity and at first I thought it was starting to turn. I smelled again this time less timid; red clay, pine tree bark, moss, and a hint of berry fruit.
Taste: slightly acidic, sour cherries, black berries, tobacco, leather, and tannic.
This took me almost 2 hours to drink just one glass. I even ended up pairing the wine with a dark chocolate hoping that might bring out more flavors and essence and take the edge off. The second night the wine had changed abruptly but in a good way. I had stored it as sealed as I could get it and in the fridge.
Wine notes from the second night:
Nose: moss, eucalyptus, red clay, cherries.
Taste: Black berries, Black Raspberries, smooth and velvety, transition to tobacco, tannins and at the very end a sweet surprise of bitter dark chocolate.
The color was deep red but not jammy like a zinfandel.
The wine has definitely opened up over the course of one night. Wine fascinates me, the chemistry and reactions that occur within the wine to create the experiences we have as well as the artistry to create such a complex wine is awesome. Cheers!
Article Tags:
Italy
·
Nebbiolo
·
Red Wine
Article Categories:
Red Wine