When I was living in Oregon I had read about this winery in Sonoma. They had just opened a new tasting room and it looked amazing….or at least from the glossy magazine pictures. The winery is Ram's Gate. They create a variety of wines but the focus is chardonnay and Pinot Noir. At the time being in Oregon I was excited to one day expand my horizons and taste some of this Sonoma Pinot Noir people talk about. One lazy Friday afternoon, I had taken the day off from work for an appointment, I decided I would stop by the winery and give it a shot. I had passed by it numerous times and had wanted to stop but the timing wasn't right. The clouds had settled in over the rolling green hills of this early spring day and a drizzle was slowly cleaning my car as I drove up the winding road to the winery at the top of the hill. As I looked out I could see the green rows of vines a cow pasture in the distance and Mt. Tam in the far off distance. I felt as though I had been transported back to Oregon. I grinned as I arrived at the winery thinking of all the fun memories of Oregon, wine, and rain.
As I walked to the winery there was a long path leading up to the tasting room. The building was split it seemed into a public tasting room, a courtyard for guests to sit outside, and another building perhaps used for storage or reserved parties. As I entered the tasting room I met a young woman who was the hostess and positioned me at the horseshoe bar. There was an area designated to couches, coffee tables, and a few bistro tables. Very cozy but also very Napa. Meaning, its swank and trying to be impressive rather than homey and someone inviting you into their living room or patio to share a glass of wine. I stood at the bar and had a tasting. I tasted the Chardonnay from Sangiacomo vineyard 2010, Pinot Noir from Sangiacomo vineyard 2011, and the Syrah from Carneros vineyard 2012. My focus for this article is the Syrah which happened to be my favorite of the 3. The others will be present in future articles. I swirled, breathed, and tasted as more people began to fill the bar space. I was a bit surprised there happened to be so many people at the winery given it was a Friday afternoon and it was cold and wet.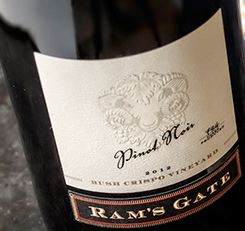 Sonoma is known for its Pinot Noir. Or more specifically the Sonoma coast. The cool winds from the pacific ocean provide a milder summer cool spring and fall. The summers may turn hot but only for a week or so before cooling off again allowing the grapes to ripen to full potential but with the cool winds and oceanic rains providing mainly cool temperatures and sustainable water to keep them hydrated. Pinot Noir grapes love that. However, I was surprised to see the syrah being grown in the Carneros AVA (American Viticultural Areas) of Napa/Sonoma. This region lies between Sonoma and Napa and is known to create great Pinot Noir as well. I just had to taste this Syrah coming from Carneros. Ram's Gate Syrah from Carneros 2012 Wine Notes:
Nose: Raspberry, Mulberry jam, twig
Taste: Tobacco, Espresso, Bitter Dark Chocolate, Black Cherry, smooth Tannins, silky elegant finish.
This was my fave. So much so that I ended up purchasing a bottle and cellaring it. Ram's Gate has great views and a nice place to sit if you can on the patio or courtyard. Ram's Gate has interesting wines and is an experience. Try the Syrah.
Article Tags:
Featured
·
Red Wine
·
Sonoma
·
Syrah
Article Categories:
Red Wine