I recently visited Portland OR for business but also for a bit of pleasure. I stayed with good friends and I had mentioned to them several times before about a wine shop I really enjoyed going to and we finally made the time to go on a Sunday afternoon to share a bottle of wine. As I have mentioned before Blackbird Wine Shop in the Northeast area of Portland is one of my favorite shops to visit. Andy is very knowledgable but also who is passionate but not pushy about wine. My friends walked into the shop and started taking it all in snapping pictures and sampling some of the cheeses he had to offer. I had told them of my new found discovery of Douro wines from Portugal. Andy came over and described both bottles he had as well as a little about the geography and grape varietal. We ended up with: Quinta dos Roques 2008 Touriga Nacional (Dão). Andy was very attentive. He opened our bottle took a splash and decided decanting it would provide a less restrictive experience. The wine needed to breathe. As we were talking, sharing stories, laughing and relishing our new experience with this bottle of wine I decided to try a splash without decanting it first (if the decanter is to small or you just want to try a bit of wine decanted first you do not have to pour the entire bottle into the decanter). I could tell the tannins were tighter and the wine had more of an astringent feel. There are times I am not sure if decanting really makes a difference or if it is more for show but after this experience I understand better why some wines should be decanted and others do not.
Decanting wines can serve as two purposes: Aeration which can allow a wine to 'open' up more, and to remove sediment. If you are using this as a purpose to remove sediment in your wine make sure to set the bottle upright for about 24 hours to allow all the sediment to slide down the inside of the bottle and to settle out at the bottom. Be careful when pouring your wine into the decanter and keep an eye on the sediment as the wine decreases in the bottle. If there is a little wine left in the bottle to prevent the sediment from transferring to the decanter that is just fine. The other purpose for decanting: Aeration. Many different variables come into play to determine if the bottle should be decanted for aeration; age and bottle condition, varietal composition and production techniques are a few. This is another one of those topics that people have varying opinions. Some feel this will allow the wine to open up and give extra life to a "tight" wine. Others feel the aeration of swirling your wine in your glass is just enough and by decanting the wine you could lose the experience of all the different phases of the wine from when it is poured in your glass to your last sip after it has sat in your glass breathing. At the end of the day its your choice and what works better for you. Always experiment!! That is the best way to find out what you like and yes there are some wines that feel better after decanting than others. Ultimately its up to you.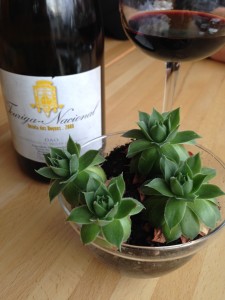 Quinta dos Roques 2008 Touriga Nacional (Dão); a beautiful wine and one that I could cellar for a few more years for sure. Quinta dos Roques could be considered one of the few wineries that started the flood of creation using the Touriga Nacional. The winemaker only uses oak barrels to soften the tannins not as a flavor point. He combines old techniques with new technology to create outstanding wine.
Wine Notes:
Nose: Oak, cigar, thyme, black raspberry, hint of vanilla
Taste: black fruit, hint of plum, back cherry, black raspberry, tobacco, vanilla on the finish, smooth mouth feel, tannic but not harsh, nice long finish but no funky after taste.
Truly enjoyed, good price point and impressed my friends. Towards the end of our afternoon out Andy brought over a Grenache and allowed us to each have a taste…I ended up with a bottle. More to come on that bottle. Try a Douro (Dão) the experience is truly worth it.
Article Tags:
Douro
·
Portugal
·
Red Wine
·
Touriga Nacional
Article Categories:
Red Wine