When I first moved to Oregon I knew absolutely no one. I had left everything I knew, grown up with, new friends, old friends, all my familiarity and left for a job in the wine industry not knowing what may be in front of me. I was so excited!!! Lucky for me in the small town I had moved to, outside of Portland OR, held a First Friday art walk every month and a week after I moved into town was a First Friday. I did meet some people that day and one in particular. She was pouring wine from her and her husband's winery in one of the shops. We started talking and the next thing I knew I was being invited to come visit them at the winery the next day to taste some wine and meet her husband as well as some other locals. Sounded great!! And….it was. From then on I have been Friends with Cassandra and Boyd Teegarden from Natalie's Estate Winery. Some people might think I am biased about their wine because I am friends with them but truly, try it for yourself and you will see …. its pretty damn good stuff. Boyd makes amazing wines not always what you might typically expect from a specific varietal but that is what makes it so special. They both put so much care into their product. They make a great team and I am just grateful to have found and experience their wine. I have shared their intimate winery with many friends and family and we are always treated as though we are not guests but family.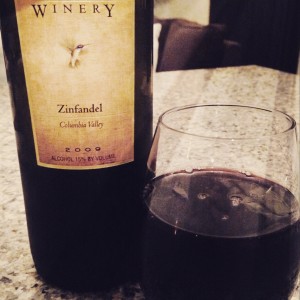 I recently opened a bottle of the 2009 Zinfandel from Columbia AVA. I had this bottle for a while and was holding on to it knowing it would cellar nicely. However, a particular day rolled around some people choose to celebrate and others think its not worth it; Valentines Day. We are the couple that don't really celebrate it but mainly we create an extensive menu with a special bottle of wine make the meal together and then enjoy the rest of the evening. We had chosen surf and turf; my husband prefers a ribeye bone-in, and I prefer a filet topped with gorgonzola cheese and pepper of course. We grilled the steaks, shrimp and veggies, created roasted baby potatoes and our meal was complete. Actually, not complete, we were missing the wine! I looked at my cellar for a long time. I wanted it to be something we both would enjoy but would also pair well. Cabernet is usually what most people might look for and I was too but nothing really stood out. Then my eyes grazed over Natalie's Estate Winery Zinfandel 2009 Columbia AVA and I thought…perfect. I opened the bottle about 30-45 minutes to let it breathe. I didn't want to decant it but just allow the oxygen to slowly defuse into the bottle and start the process of releasing those tight tannins and aromas.
Wine Notes:
Nose: smoke, cigar, thyme, plum
Taste: Blackberries, thyme, smoke, plum, black raspberries, jam on the finish and cloves
Really beautiful and impressive wine. This is not your typical California zinfandel. This was not jammy and a big bold fruit bomb. You could taste the tannins but they were soft and elegant. I felt as thought this was complex and less dense then most Zins and this is one that is not seasonal. It could pair nicely with Bar-B-Que in the summer or a nice bolognese sauce in the winter. Natalie's Estate Winery is creating very special wines that truly represent the winemaker as well as the love, passion, and terrior. Check them out and enjoy the experience. I obviously have.
Article Tags:
Oregon
·
Red Wine
·
Zinfandel
Article Categories:
Red Wine