If you find yourself wanting to experience Oregon Wine Country in the Willamette Valley you will most likely be traveling from Portland, Oregon. You will hop onto highway 99 which will take you into Tigard and Tualitan both busy places but as you continue on 99 out of Tualitan towards Sherwood the houses begin to thin out, the lush green forests build up on either side of you with open fields randomly appearing providing a glimpse into the lush farm land. Sherwood is a quiet town I would consider a family oriented community small and homey feeling. Ponzi winery is located in Sherwood off of highway 99 down another road and takes you out to the lush green fields and rows of vineyards leading you up to a beautiful tasting room and winery. However, I have not been inside the tasting room yet. I first discovered Ponzi wines at the wine bar in Dundee. So you would stay on highway 99 and continue through Newberg another small a quaint town with a fun little downtown area and tasting rooms all throughout featuring mainly Pinot Noir but there are some real gems. Finally you will come to Dundee, Oregon. One traffic light and if you blink you might miss it. But there are a few awesome restaurants and the Ponzi Wine Bar. This is where I discovered the great wines of Ponzi. One of my favorites is the Dolcetto. The first vintage I experienced was the 2009. This definitely got me hooked on their wines. Ponzi Dolcetto 2009
Ponzi Winery was established in the 1970's during a period no one thought wine could grow in the Northwest let alone Pinot Noir. However, as I have found out first hand, they proved that theory wrong! The winery has been kept in the family and currently the direction of the winery is under second generation. They still try to maintain the old methods of making wine today.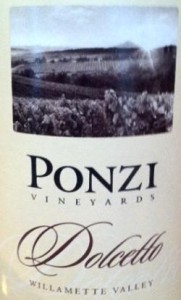 Dolcetto is not a wine you usually find in the Northwest. The Dolcetto grape variety is mainly grown in the Northwest region of Italy and means "little sweet one". This does not reference the grape per-say but rather the soil or land that the vine grows upon. Dolcetto was used in the early days for the winery to gain some income while the Barolo and Barbaresco wines were aging. Dolcetto can age in the barrel after fermentation for about 18 months before bottling and selling; compared to the Barolo wine which needs 2 years or so in oak barrel and another 3 years in bottle before the wines can be sold. Dolcetto is considered a wine you should drink now and not later. This wine doesn't age as well as some of the other Italian varietals. Most people recommend drinking within 3 years of purchase.
Wine Notes for: Ponzi Dolcetto 2009
Nose: Cassis, Tobacco, Black Cherry, hint of Leather
Taste: Black Cherry, Blackberry, cassis, hint of Mint and dried herbs, slightly tannic, bitter sweet chocolate on the end.
smooth not too tannic or acidic but ripe black fruit. Medium bodied. Really easy to drink with or without food pairings. Very nicely created and allows the varietal to shine.
Article Tags:
Dolcetto
·
Italy
·
Oregon
·
Red Wine
Article Categories:
Red Wine