The night was filled with snow and a chill in the air left over from a recent storm. I was meeting someone special for a night out. I jumped out of my warm car and onto the icy sidewalk careful not to fall especially wearing stiletto heels. I quickly found myself inside the warmth of the restaurant and ascended the marble stairs to the hostess stand. I checked into the restaurant and headed to the bar for a drink to warm myself from the chill. As I waited I decided to order a bottle of wine. The cocktails were not calling my name and I assumed this would go well with dinner anyway. The bar was alive with much conversation. I leaned on the hightop waiting for my companion watching all the people. Some were dressed in cocktail attire, others in business suites, or even the occasional jeans and a t-shirt. Such an eclectic crowd. I sipped my wine enjoying the complexity and people watching. Not only was I looking for something to keep me warm at the moment but also to take me to a place that would have been warm if I had been there that moment; Argentina. Crios de Susana Balbo Malbec 2006.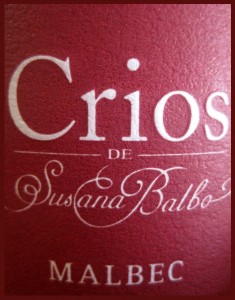 Malbec is a thinned skinned grape unlike cabernet sauvignon or merlot. Therefore, the grape needs more sun and heat to ripen creating the big tannins and higher residual sugar (how much sugar per litre in either wine or grapes.) This can be a big bold grape. The thin skin also allows this grape to represent the terrior better than any other red grape varietal. Malbec is one of the 6 grape varietals that can be used to create Bordeaux blends. However, in most recent years Malbec seems to be a very popular wine created in Argentina. The most popular region being Mendoza. This region is located at the foothills of the Andes Mountains at a higher altitude.
Susana Balbo is an Enologist and Entrepreneur that found herself in Argentina making her own wine including a Malbec. The wines she creates under the label Crios de Susan Balbo is from the best barrels of juice. Crios de Susana Balbo Malbec 2006
Wine Notes:
Nose: Black Cherries, Smoke, Oak, and a hint of Stems
Taste: Bold Red Fruit, Plum, Cherries, Cloves, Tobacco and a hint of Caramel Espresso
Nice long finish without a funky aftertaste. The smoke frame the fruit well and adds a nice complexity. Dry and medium Bodied. This wine paired well with a filet mignon. Did not over shadow the meat but accompanied it. Would definitely try a more recent vintage. This is a good one for any night of the week or special occasion. Or to sip and people watch at your favorite wine bar.
Article Tags:
Argentina
·
Malbec
·
Mendoza
·
Red Wine
Article Categories:
Red Wine