Summers are great for road trips. In fact I found myself on one taking Highway 1 from the bay area of California to Portland Oregon one summer. I really do enjoy the romance of road trips, the chance for discovery, and of course the adventures! There is so much to see and appreciate. Of course taking Hwy 1 gives you plenty of photographical moments of the ocean and the redwoods. I also found there were many small wineries along the way and country houses that were just so beautiful and represented what life used to be. I had heard of a winery called Tulip Hill located in the Lake County area of California. I thought it would be relativly close to Hwy 1 and not too far of a distance out of our way. Was I wrong! 2 hours of winding roads, going around Clear Lake and actually back tracking we landed at Tulip Hill Winery in Nice, CA. Again, its all about the adventures. The tasting room was quiet and small but it opened up to a beautiful huge garden with picnic tables and chairs for guests to enjoy a glass or bottle of wine. The day was a perfect California day of sun and warmth. We tasted through the wines and ended up getting a glass to enjoy in the garden. One of my favorite bottles is the Tulip Hill Syrah 2008. Unfortunately the winery changed hands and eventually shut down but was still producing wine at a different location. We still remember those fun moments we had and this being one of them.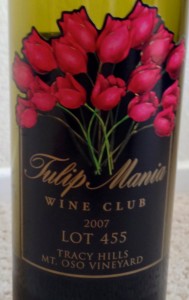 Tulip Hill used grapes from Tracy Hills AVA (American Viticulture Association) outside of Livermore California. The hotter climate is great for the bigger reds and really allow the bold fruit to shine through the wine. As most varietals the climate will influence the type of wine the grape creates. In a hotter climate like Livermore, CA compared to Walla Walla Washington the wine could be more jammy, fuller bodied, smoother tannins, and spice notes. Where as a syrah from Walla Walla, Washington grapes could be medium bodied, blackberry notes, pepper, and tannins.
Wine Notes:
Nose: Dark fruit, Plum, Allspice Berries, Leather
Taste: Jammy, Full Bodied, baking spices, hint of Ginger, Plum, smooth Tannins, Espresso/Dark
Chocolate finish
Really a great wine to enjoy with Lamb or even just to enjoy with friends after a meal. Truly a nice creation to showcase the terrior the grapes are influenced by.
Unfortunately, the winery and production have been closed. There is still wine available from this winery on wine selling sites.
Article Tags:
California
·
Red Wine
·
Syrah
Article Categories:
Red Wine