For this article I really wanted to showcase a wine that truly represents our country and where our country stands today and what we should represent. America became independent and fought hard to do so. We wanted freedom to make our own choices and allow those to migrate to our country to follow dreams. Some of the people I truly admire are those that started with nothing and had to work their way towards their dreams and succeeding. I have written about a wine from this winery in a previous article and I truly believe his family represents what it is to be an american as well as to work hard towards something they truly want. Natalie's Estate winery started small and has remained small because they do not want to be a huge winery. The winemaker grew up in Kansas as a farm boy. Little did he know the experience he would acquire from working the land would eventually be a big asset for the future. He and his family started from scratch and has acquired a few more vineyards along the way with which he works with. But for the most part he has found his cap and it works really well. Natalie's Estate Tempranillo 2013.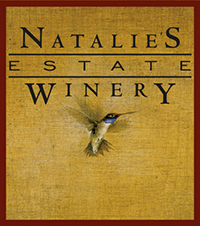 I choose his Tempranillo because it goes well with BBQ or a burger but can also be enjoyed slightly chilled drinking in the afternoon as the kids play with the fireworks and the adults sit around conversing and laughing while they grill. This also represents our country of mixed cultures and it would only be this way because of our independence and freedom.
Tempranillo has 4 different styles or classifications: Rioja, Crianza, Reserva, and Gran Reserva. Rioja is more of the table style wine or similar to Beaujolais. Little or no oak and aged for 1-2 years, bottled, and then sold or had with dinner. Crianza has more depth and is great as a bistro or tapas style wine. Aged for 1 year in barrel and 2-3 years in bottle before sold. This allows the wine to marinate and meddle the flavor profiles together providing a more complex wine. Reserva is aged for 1-2 years in oak and about 2-5 years in bottle. Again this provides more depth, smooth tannins, and complexity. The final style is the Gran Reserva aged for 2-3 years in bottle and at least 4 years in bottle. As you might have guessed each style also increases in price. This is all good to know and will help you determine what style you are looking for. Natalie's Estate Winery creates a Crianza style wine great for a bistro or tapas or just sipping in your backyard.
Wine Notes
Nose: Veggie, Minerally, Earthy, Sour Cherries, Cedar
Taste: Pepper, Cherry, Cassis, Eucalyptus, Hint of Tannins on the back but finishes smoothly
Nice wine to drink slightly chilled will develop the flavors a little better as well. This is a great wine to enjoy during the summer. Not to bold and jammy but just enough to compliment a burger or other big meat. This is definitely versatile and I'll be enjoying a glass this weekend as I watch the fireworks in my neighborhood. I'll let my husband grill. 😉
Article Tags:
Oregon
·
Red Wine
·
Tempranillo
Article Categories:
Red Wine